---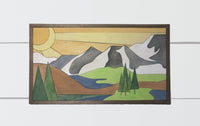 Grab one of these kits, get your friends on Zoom or another app and host a virtual "Quarantine Wine and Paint" party.
No experience necessary! All pieces are cut separately like a puzzle, so you paint, then assemble each piece in place to be glued to the backing when finished. 
The complete kit includes everything you need to complete your project.  Or if you already have the supplies, just choose the blank sign option. 
Finished project measures 19x11.