---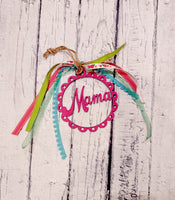 Wooden Mama ornament made to use as a car charm to hang from your rear view mirror or to hang on your Bogg (or any brand) tote. 
Charm measures 4 5" and is cut from baltic birch and painted fuschia.
**made of wood so should not be exposed to wet conditions.